Nothing new really. They write about what she wants to do in the future (althoughit seems like they've just seen one or two interviews and don't really know much about her) and that apparently, she is with Rob ;)


The article is comparison of Kristen and Emma Watson and has title "There can be only one queen?". I didn't scan EW pages because there's nothing about Kristen really.

Click for bigger.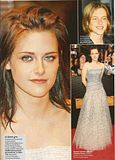 Upper right corner - Kristen first acting job was when she was 14
Main picture (on the left) - Kristen acts. 20 year old Kristen is not a typical hollywood beauty, but her look intrigues and draws the attention of viewers and directors. Great talent allows her to play various roles, like rock star, prostitute or normal teenager
Main picture (right) - Stewart feels confident in flashlights. She says, however, that acting is not the most important for her.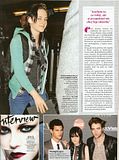 Left picture - Kristen knows good what she wants to achieve in life. She comes from movie family, her role in Twilight brought her unbelievable fame but she doesn't eliminate the fact that she will relate her future careere with literature instead of acting. So far she plays in movies and succeeds. All is good in her private life too. She's with Robert Pattinson, main male lead in Twilight.
Text: I love what I do but in future I don't want to be an actress.
Although Kristen is the same age as Emma Watson (both were born in April 1990), Kristen's filmography is bigger. No wonder, she was born in Los Angeles in a family of filmmakers. Her dad is a tv producer and her mom is screenwriter.
Her first role was in a movie "Catch that kid" in 2004. Audience and critics liked her. But the biggest fame came when she played Isabella Swan in a famous vampire saga Twilight. With Robert Pattinson, main male lead, they became couple, not only on screen.
Kristen didn't stop on Isabella role. At the same time she played in a movie "The Runaways", where she player rock star Joan Jett and in "Welcome to the Rileys" where she plays 16-year old prostitute Mallory. She got a strong position in a movie world.
But it's not enough for her. Lately she revealed that she has different plan for her future. "I want to go to college, to study literature. I want to be a writer. I love what I do, but it's not all I want to do. I want to be a professional writer for the rest of my life" - she said during one of the interviews. She even chose the school: university in Sydney, Australia. That's where her mom comes from
.
SOURCE
Ankita :)