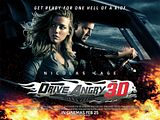 Drive Angry 3D is filled with a great sense of its own silliness with director Patrick Lussier crafting a demented, gory and knowing homage to b-movie horror shows. It's loud, brash, crass and thoroughly enjoyable. In many ways the kind of 1970s-inspired low rent flick that might have fitted neatly into the Grindhouse label given its penchant for thrills and chills with a pulp fiction heart.
Nicolas Cage plays John Milton (bit of a tired literary reference there), a bad ass ex-con who has busted out of Hell to rescue his granddaughter (yeah, Cage is playing granddaddies now) from the clutches of Jonah King (Billy Burke), a self-styled religious guru who worships Satan with his demented and dedicated clan of psychos. Oh and Milton's daughter, before King murdered her, bit off his Johnson. Nice.
The use of 3D and its application takes a leaf from Alexandre Aja's imaginary book on 'Presenting Movie Mayhem in Stereoscope'. Drive Angry uses it to provide chuckles and horror in equal measure. And boy, do things get bloody.
This hellride actioner is one long chase scene and actually works well. One could described it as "Sam Peckinpah meets Roger Corman". The story is threadbare but powered and energised fully by its concept and execution.
William Fichtner puts in an amusing turn as The Accountant. On the surface he's all suave and cool, but really as deadly as the man he's trying to return to Hell. Amber Heard also does herself no harm playing Piper, a foul-mouthed and hard as nails waitress who befriends Milton and joins him in his madcap quest across southern US back-roads and small towns.

There really isn't much to grumble about. You'll laugh in all the right places – including a fine sex scene turned shoot-out, you'll enjoy the car chases and the deliberately corny dialogue. It plays to all of Nicolas Cage's strengths as a great eccentric star, too.
As an audience who love the oddball actor we know his choices are hit and miss. Just when you begin to lose faith he pulls something out of the hat which makes you forgive him. Coming so soon after The Season of the Witch Drive Angry serves as a reprieve as much as an affirmation of the leading man's qualities. When he's on fire there's nobody quite like Cage.
Of course the 3D leans more to the gimmicky side befitting its aesthetic and Lussier's film would be equally enjoyable in the standard format. But since it delivers laughs and violence measure for measure it's something the audience will no doubt embrace in whatever dimension it's projected. Drive Angry has a cult classic vibe for sure, whether it becomes one remains to be seen. It tear-arses into cinemas from 25th February. Go and see it.
Rating 4/5 stars
US Release: 25th February
UK Release: 25th February
Australia Release: tbc
lavy